Surface Retexturing
Scarification or scarifying concrete - perhaps more commonly known as concrete roughening, concrete scabbling or surface retexturing can be effectively carried out using ULTRA HIGH PRESSURE (UHP). With pressures up to 2500 bar combined with a multitude of high speed rotating nozzles that are capable of covering up to 300mm in a single pass, Clean Break can find a very quick solution for any concrete scarifying or coating removal task.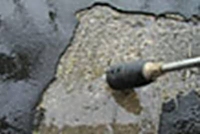 The hydro blast jets expose the course aggregate leaving a scarified surface ideal for recoating or bonding to that will greatly increase the bonding strength of any material such as paints, epoxy resin coating or concrete. Covering the whole area and leaving a very even key is where the water jetting solution succeeds over other slower traditional methods. There is no vibration with the operation with no risk of hand/arm vibration to the operators.
All the retexture work is done with water alone - no abrasives are added therefore making very little mess or waste to collect and contain. Vacuum recovery can also be used on the self contained jetting head to leave the surface debris free and almost dry ready for the next application.
No dust is produced with this process leaving very little need for protection around the working area. Not only this but the production rates achievable with this kit are far higher than with normal sand blasting, captive shotblasting, floor plainers/scabblers/grinders, wet blasting or other surface etching machinery.
Highway and road surface retexturing on all surfaces including tarmac and asphalt can also be accomplished using this system. This leaves the surface with an antiskid finish and saves valuable time and money with not having to apply an anti-skid layer or re-lay the road surface.
Work can be carried out on all hard to reach areas using a hand lance or for more delicate areas a self contained unit with no overspray can be used for both wall and floor preparation. This is ideal when working near the public or in areas with delicate surroundings that would normally require a lot of protection.